Twenty Three Trainees 'Engineer' Education Success
Northern construction group the Applebridge Family have given eighteen trainees and five trade apprentices the chance to 'engineer the foundations of tomorrow, today', by enrolling them onto bespoke training programmes and further education courses, across the North-East and Yorkshire.
The Applebridge Family works closely with multiple colleges and universities across Teesside, Newcastle, Durham and Yorkshire, creating tailored training programmes for trainees joining the businesses.
With an ageing workforce and skills gap within the construction, Applebridge feels the responsibility lies within the industry to create opportunities and to educate the next generation of workers.
The Applebridge Family recently teamed up with Hartlepool College of Further Education to offer six trainees a chance of a career in Construction.
The Applebridge students will work towards a Level 3 Diploma in the Construction and the Built Environment, the equivalent to two A-levels, and will cover a variety of topics such as project management, health and safety, construction technology and building technology, to enable them to become civil engineers, site managers and quantity surveyors.
Hartlepool College's Head of Construction and the Built Environment, John Cartwright said: "The partnership with Applebridge will help to transform lives, as we look to get these apprentices on the road to construction management.
"It is a three-year course, and this is the biggest employer partnership the college has developed within construction.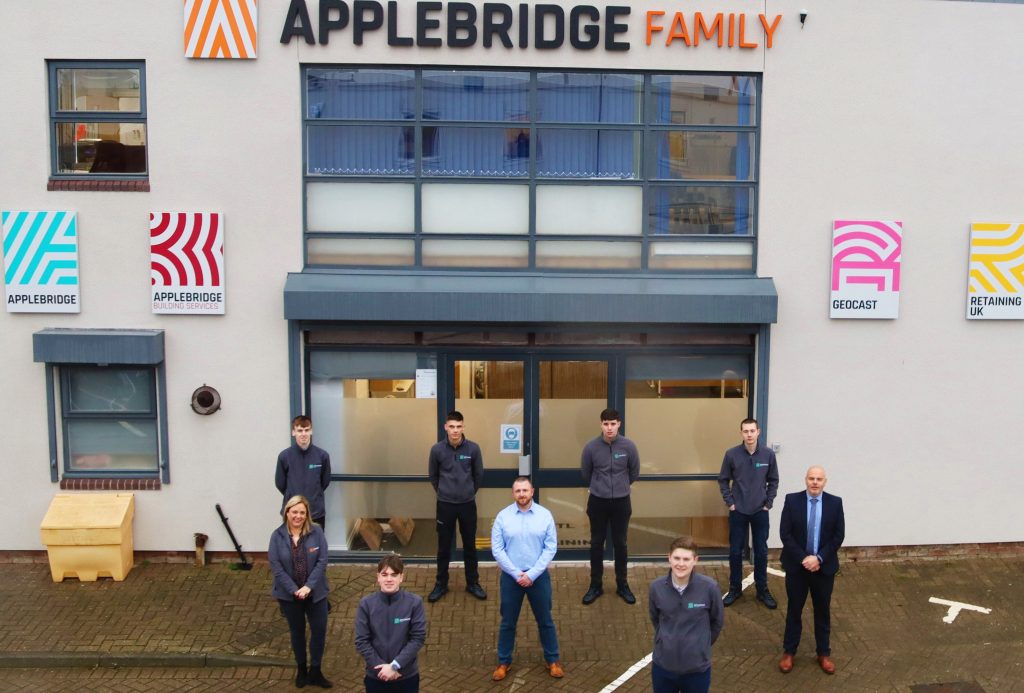 During their course, each trainee will rotate within the business, gaining experience in multiple disciplines, both on site and in the office, creating a well-rounded construction experience. On completion of the course, each trainee will be placed in their favoured sector of the business, to further build upon their knowledge and skillset and to proudly follow the company culture, ethos, and work ethic.
Construction Director of Applebridge Construction, Andy Ray who works closely with colleges and trainees to design the bespoke training programmes, had this to say:
"We are delighted to welcome our latest cohort of trainees and apprentices into the business and look forward to seeing them develop over the coming months and years. Our latest management training programme builds on the success of previous years' schemes where we have been proud to see our apprentices and graduates rise to the challenge and become essential members of the team."
The Applebridge Family also has trainees enrolled onto Construction and Built environment courses at New College Durham and Sheffield College.
Education is extremely important to Applebridge, with a further eight employees enrolled onto further education courses, in a range of disciplines, including Accountancy, Quantity Surveying and Civil Engineering, at Northumbria University, Leeds Beckett University and Caplan Financial, Newcastle.
Covid-19 has caused a dip in the opportunities available for young people, however these training programmes can help to provide tomorrow's workers a chance of a career in construction.
Additionally, The Applebridge Family invests heavily in trade apprentices, with five trainees currently enrolled onto Groundworks, Joinery, Plant Machinery and Bricklaying courses.
The Applebridge Family is made up of seven construction companies: ZTL, AD Plant, Applebridge Construction, Applebridge Building Services, Geocast, Retaining UK and Tarcon.
Applebridge is 'engineering the foundations of tomorrow, today.'